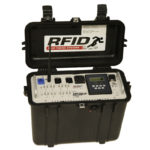 How does it all work then?
Before we talk about the types of chips were use, let's explain briefly how the technology works. No matter what type of chip you choose for your event, they all mainly work in a similar manner.
When competitors cross the start mats, the electrical field (generated by the mats) energises the "sleeping" chip, causing it to "wake up" and transmit its unique chip code. The timing box receives that code and timestamps it. The software retrieves the data from the box and matches it with a specific competitor. This gives them their start time! At the end of the race, competitors cross the finish line and their finish time is recorded in a similar manner. By subtracting one from the other, the competitors chip time is calculated.
Ok, that's a very simple explanation but that's fundamentally how it works. Ok, there is far more under the bonnet that goes on to ensure things like :-
Thousands of people are accurately detected as they cross a start line in a matter of seconds
Multiple competitors crossing the finish line at the same time are accurately ranked
The software is configured correctly to time complex events.
But that's why timing companies like Perfect Timing exist!
What type do I need for my event?
Types of Timing Chips
We use three types of chips here at Perfect Timing, depending on the type of event and it's specific requirements. Below is an overview of each type, and the typical events they are used for. But the easiest way is to speak to us and we can recommend the best one for you. You can contact us here
Chips on Bibs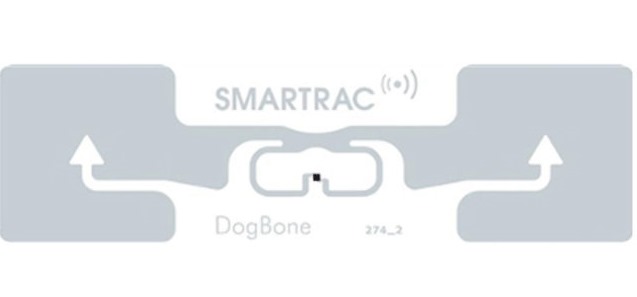 For the majority of our running events we use chips on bibs . These are ultra thin chips that attach directly to the race number with a foam spacer to protect the chip from the body.
We also have several variations of this type of chip e.g. rider boards, cycle helmets etc
Chips on bibs offers several advantages to both organisers and competitors
Race numbers (including embedded chips) can be sent out / picked up in advance of the event, meaning shorter queues at registration on race day.
At registration, it is simply a matter of handing the competitor their race number. No need to hand out race number, timing chip, strap to attach to ankle etc
No risk of race numbers and associated chips getting mixed up.
Far simpler post race administration. No need to have a "de-chipping" team at the finish line to collect competitors chips
No unexpected "lost chip" charge on your final invoice (nobody wants that!)
The chip manufacturer can re-cycle the Tyvek race number with chip attached
We know that from feedback, chips on bibs are the preferred type for competitors
Chips on ankles – Passive Chips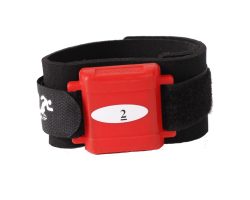 These tend to be used for events like triathlons where it's not practical to wear a chipped race number on your front. These chips are also used for smaller running events where cost is important and there are fewer chips to hand out/retrieve. Whilst these are higher value than chips on bibs, we can re-use them many times over, resulting in lower costs for you.
The chips attach to the ankle via a comfortable neoprene strap and Velcro to secure it. We supply the strap as well as the chip. We do not advise handing these chips out in advance as they are valuable and can either go missing in the post or the competitor does not turn up on race day and does not return the chip.
When using this option, we ask the organiser to be responsible for collecting the chips at the end of the event.
Chips on ankles – Active Chips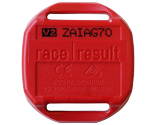 These are the "daddies" of chips! Not only do they work in same way as the chips above, but they also have "intelligence". For example, if your halfway timing point on the top of a hill with is no mobile reception, these chips can still store the time the competitors cross that timing point. the chips hold on to the data until the NEXT timing point (where there is network connectivity) and transmits the data for both timing points.. These chips can also work with inexpensive tracking boxes dotted along the route, working in a similar way to GPS trackers to see where each competitor is, but at a fraction of the cost. These chips also have very high precision, making them ideal for fast sports like cycling, motorsports, and other high speed events.
As with the passive chips, we ask the organiser to be responsible for collecting the chips at the end of the event.
The equipment we use for our Active chips also comes with its benefits. It can be setup very quickly and can be totally wireless and battery operated. So if trailing wires round transition areas are a concern for you, then this could be the solution. The wireless range for the timing boxes can be up to 400m from the timers location.
Very cool technology!
I hope you found this section of interest and answered any questions you may have had. We look forward to hearing from you!